Sesiones de formación operacional – Operational Training Sessions (OTS)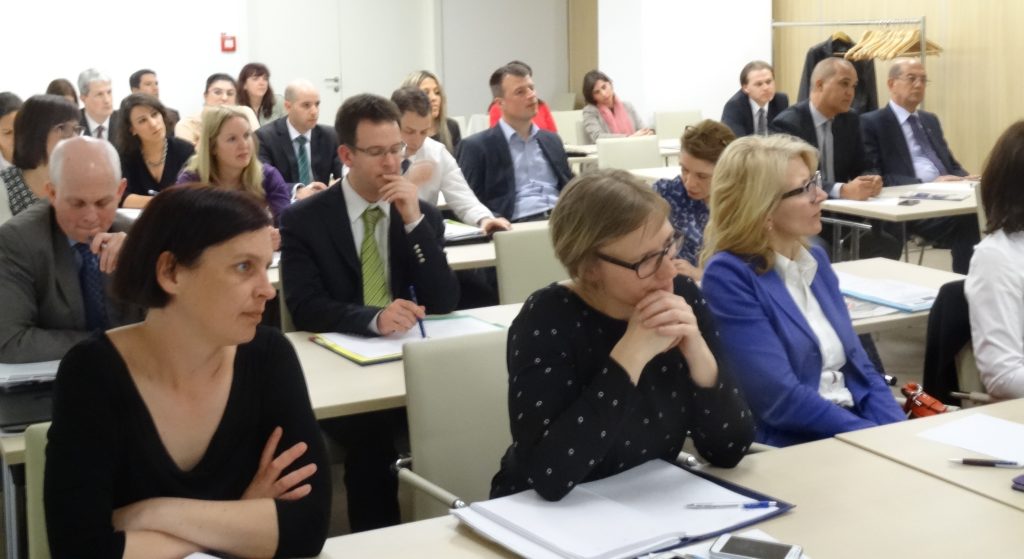 AECM organiza los OTS (Operational Training Session) dos veces al año: estos seminarios tienen el objetivo de facilitar la comunicación entre el middle management sobre específicos sujetos.
Durante estas conferencias se habla de un particular argumento y el pequeño número de participantes (entre 25 y 50) permite un nivel muy informal y personal de cambio de informaciones. Esto es también garantizado por la presencia de oradores externos que hablan sobre el argumento decidido en una manera informal y abierta, alguna vez bajo de Chatham House Rule.
"Operational Training Sessions" pasados
05 – 06 Octubre 2017 – Atenas (Grecia)
"Individual vs Portfolio Guarantees"
en colaboración con nuestro miembro  griego ETEAN
13-14 February 2017 – Berlin (Germany)
"The effect of digitization on guarantee procedures"
en colaboración con nuestro miembro  aleman VDB
15-16 September 2016 – Warsaw (Poland)
"Communication between Guarantee Institutions and Banks"
en colaboración con nuestro miembro polaco BGK
9-10 Mayo 2016 – Vilnius (Lituania)
"Guarantee products and risk assessments. Evaluating risk for various types of guarantees"
en colaboración con nuestros miembros lituanos INVEGA y Garfondas
15 -16 Octubre- Zagreb (Croacia)
"Innovations in Credit Guarantee Schemes: A Way to Success"
en colaboración con nuestro miembro croata Hamag Bicro
17-18 Abril 2015 – Maribor (Eslovenia)
"Policies and Procedures for Collaterals"
en colaboración con nuestro miembro esloveno Slovene Enterprise Fund
20-21 Noviembre 2014 – Porto (Portugal)
"The analysis and evaluation of guarantees"
 3-4 Julio 2014 – Bruselas (Bélgica)
"The EU Financial Instruments"
18-19 Noviembre 2013 – Viena (Austria)
"State Aid Modernization – How AECM-Member-Institutions are affected"
5-6 Mayo 2011 – Madrid (España)
"Risk assessment and rating"
For more information
contact us
.