---
What are Financial Instruments (FIs)?
FIs are financial products (such as loans, guarantees, etc) used to support economically viable projects which promote EU policy objectives and are expected to generate enough income or savings to pay back the support received.
They are used under a number of EU programmes, such as
Horizon 2020
COSME (programme for the competitiveness of enterprises and small and medium-sized enterprises)
EaSI (the EU programme for employment and social innovation)
the Creative Europe Programme
the ESIF (European Structural and Investment Funds), used to support development in a comprehensive way by investing for instance in: businesses, research and development, infrastructure, employment and training, agriculture, forestry and fisheries development, with the overall objective to improve the quality of life of EU citizens
the EFSI (European Fund for Strategic Investment), while not itself a financial instrument, is used to increase the scope of support under a number of the EU financial instruments, especially those SMEs
Member States and regions can use financial instruments (Fis) as an efficient and sustainable way of providing support. In addition, FIs can be combined with technical support or guarantee/interest rate subsidies.
---
Who can apply?
EU Fundings are available for all types of companies of any size and sector, including: entrepreneurs, start-ups, micro companies, small and medium-sized enterprises and larger businesses.
How to do that?
If you want to apply for any European FIs, you should follow a step-process as shown by the image.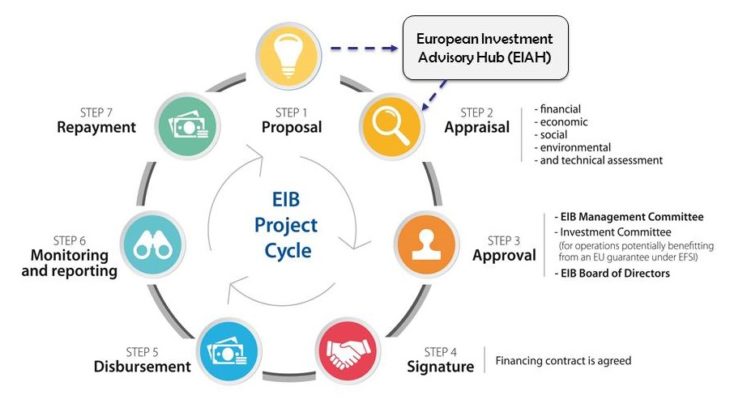 Image source:
http://ec.europa.eu/growth/industry/innovation/funding/efsi_en
---
… some benefits
The main benefits resulting from the use of FIs are:
Revolving nature of funds: Member States place part of their ESI Fund allocations in an existing or newly-created FI. The FI finances projects and when it is repaid by the promoter the FI reinvests the funds plus the interest into other projects;
Leverage effect: FIs attract public/private investors given the lower risk and long-term nature of projects. This increases the amount of money available for financing, as is the case for JESSICA (Joint European Support for Sustainable Investment in City Areas);
Expertise: Public institutions using FIs benefit from the financial expertise of the EIB Group and other administrating financial intermediaries. Technical assistance can also be financed; combining loans, grants and technical assistance in the same FI is possible;
Incentives for better performance: The repayable nature of FIs means that projects funded through them must prove themselves to be more financially-sound than grant-financed ones;
The flexibility and financial accountability rules set out in the 2014-2020 MFF offer more control over the resources;
Move away from grant-dependency: A total or partial switch to FIs offers projects a more sustainable and innovative way of financing rather than the traditional dependence on grants.
---
Which FIs our members are using?
Horizon 2020 – SME Guarantee Facility

USED BY:

aws / Austria
SOWALFIN / Belgium
Bpifrance / France
ALTUM / Latvia
BBB / UK

COSME Programme

USED BY:

aws / Austria
PMV / Belgium (use as direct guarantee)
SOWALFIN / Belgium
National Guarantee Fund / Bulgaria
CMZRB / Czech Republic
KredEx / Estonia
SIAGI / France
La Fédération Nationale des SOCAMA / France
Bürgschaftsbank Baden-Württemberg / Germany
Bürgschaftsbank NRW / Germany
AVHGA / Hungary
SBCI / Ireland
---
BEST PRACTICES/Visibility
Creapaper GmbH – InnovFin70

Creapaper GmbH is a good example of company which was founded in 2012 with 15 employees and is funed by the program InnovFin70 with a 70% guarantee.

CASE STUDY – Creapaper

Bernd Reuther Agriculture – COSME

Bernd Reuther Agriculture is a nice example of an agricultural company founded by a man with an innate entrepreneurial spirit who loves his job. Bernd Reuther is the best example of how farmers are working in harmony with nature. His company was financed with Agrar (COSME) 60% guarantee.

Fosera Solar Systems GmbH – InnovFin70

Fosera Solar SYstems GmbH is a good example of company which was founded in 2011 with 88 employees and is funded by InnovFin70 with a 70% guarantee.

CASE STUDY – Fosera
---
External LINKs: