Sessions de formation opérationelle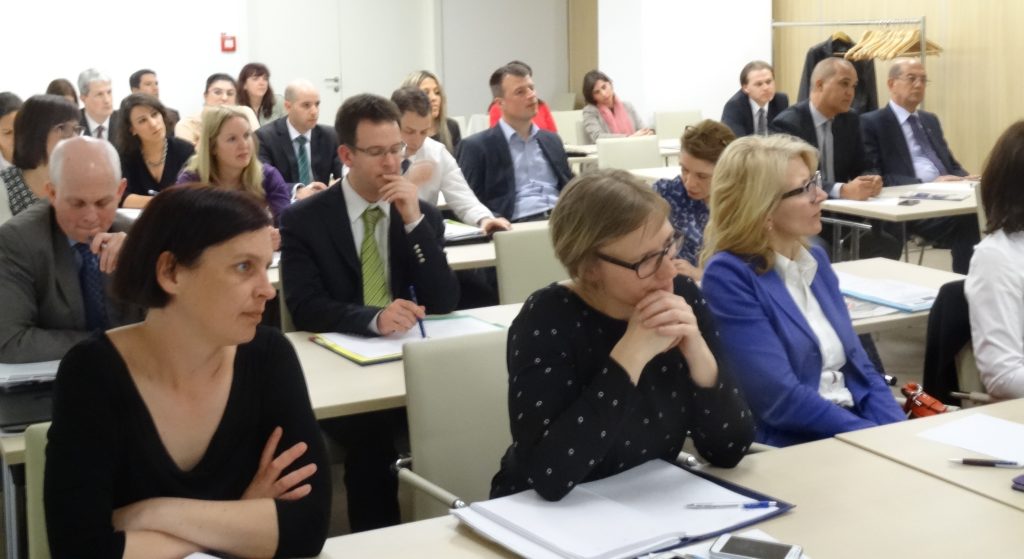 L'AECM organise des sessions de formation opérationelle deux fois par an: ces séminaires sont destinés à faciliter l'échange entre les cadres intermédiaires sur des projets spécifiques. 
Au cours de ces réunions, un sujet particulier est traité en profondeur et le nombre limité de participants (entre 25 à 50) permet un échange informel et animé, complété par la présence d'intervenants externes qui discutent de ces sujets d'une manière ouverte et informelle (parfois sous la règle de Chatham House).
Vous êtes intéressés? Envoyez-nous un courriel à info@aecm.eu
Sessions de formation opérationelle précédentes
05 – 06 Octobre 2017 – Athènes (Grèce)
"Individual vs Portfolio Guarantees"
en collaboration avec notre membre grec ETEAN
13-14 Février 2017 – Berlin (Allemagne)
« Les effets de la numérisation sur les procédures de garantie : comment la technologie influence-t-elle le monde de la garantie ? »
en collaboration avec notre membre allemand VDB
15-16 September 2016 – Warsaw (Pologne)
« Communication between Guarantee Institutions and Banks »
en collaboration avec notre membre polonais BGK
9-10 May 2016 – Vilnius (Lituanie)
« Guarantee products and risk assessments. Evaluating risk for various types of guarantees »
en collaboration avec nos membres lituaniens INVEGA and Garfondas
15 -16 October – Zagreb (Croatie)
« Innovations in Credit Guarantee Schemes: A Way to Success »
en collaboration avec notre membre croate Hamag Bicro
17-18 April 2015 – Maribor (Slovénié)
« Policies and Procedures for Collaterals »
en collaboration avec notre membre slovène Slovene Enterprise Fund
20-21 November 2014 – Porto (Portugal)
« The analysis and evaluation of guarantees »
3-4 July 2014 – Bruxelles (Belgique)
« The EU Financial Instruments »
18-19 November 2013 – Vienne (Autriche)
« State Aid Modernization – How AECM-Member-Institutions are affected »
5-6 May 2011 – Madrid (Espagne)
« Risk assessment and rating »
Pour plus d'informations, 
contactez-nous
.