Sessioni di Formazione Operativa – Operational Training Sessions (OTS)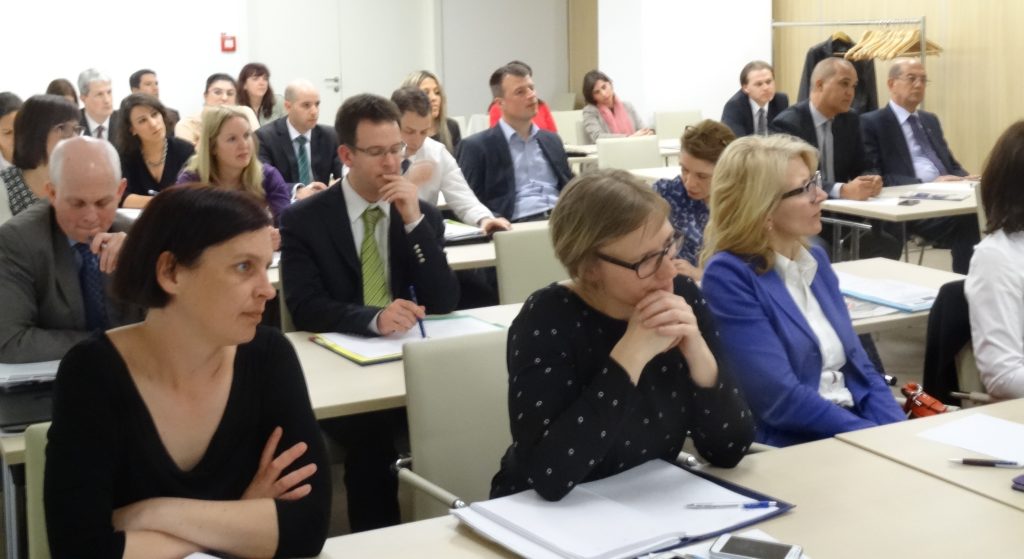 AECM organizza due volte l'anno delle sessioni di formazione per i suoi associati: questi seminari hanno l'obiettivo di facilitare lo scambio di conoscenze su specifici temi e sono diretti principalmente al middle management.
Durante i seminari viene approfondito un tema specifico ed il numero ridotto di participanti (tra 25 e 50) permette uno scambio vivace e scorrevole, integrato dalla presenza di relatori esterni che discutono gli argomenti in modo aperto ed informale, in alcuni casi secondo la regola della Chatham House. 
Formazioni passate
13-14 Febbraio 2016 – Berlino (Germania)
"Gli effetti della digitalizzazione sulle attività di garanzia : Come la tecnologia impatta il mondo delle garanzie"
in collaborazione con il nostro socio tedesco VDB
15-16 Settembre 2016 – Warsaw (Poland)
"Communication between Guarantee Institutions and Banks"
in collaborazione con il nostro socio polacco BGK
9-10 Maggio 2016 – Vilnius (Lithuania)
"Guarantee products and risk assessments. Evaluating risk for various types of guarantees"
in collaborazione con i nostri soci lituani INVEGA e Garfondas
15 -16 Ottobre – Zagabria (Croatia)
"Innovations in Credit Guarantee Schemes: A Way to Success"
in collaborazione con il nostro socio croato Hamag Bicro
17-18 Aprile 2015 – Maribor (Slovenia)
"Policies and Procedures for Collaterals"
 in collaborazione con il nostro socio sloveno Slovene Enterprise Fund
20-21 Novembre 2014 – Porto (Portogallo)
"The analysis and evaluation of guarantees"
 3-4 Luglio 2014 – Bruxelles (Belgio)
"The EU Financial Instruments"
18-19 Novembre 2013 – Vienna (Austria)
"State Aid Modernization – How AECM-Member-Institutions are affected"
5-6 Maggio 2011 – Madrid (Spagna)
"Risk assessment and rating"
Per ulteriori informazioni scrivici.