AECM, Associazione Europea degli Organismi di Garanzia
---
News dai soci
The European Investment Fund and Bpifrance have signed on February 1st a guarantee agreement – the first in France supported under the new Cultural and Creative Sectors Guarantee Facility from the EU's Creative Europe programme
The European Union's support allows Bpifrance to create a new financing product (Prêt Industries Créatives) which will target a portfolio of EUR 30 million of loans to companies over the next two years. More than 200 SMEs in the cultural and creative sectors (including film, theatre, video game production, music and performance, and editorial sectors) are expected to access this new programme which will be available in June this year. Read more
Innovative entrepreneurs have received loans in the amount of PLN 457 m thanks to guarantees granted by Bank Gospodarstwa Krajowego (Poland). In the last year innovative entrepreneurs could receive free guarantees offered by BGK. More than PLN 250 m from the Guarantee Fund has enabled companies to raise financing from commercial banks in the amount of  PLN 457 m. PLN 250 m funding came from the  (untapped) funds from Innovative Economy Operational Programme. Read more
The European Investment Fund (EIF) and the National Guarantee Fund EAD (NGF) have signed an agreement that will release an additional EUR 40 million for Bulgarian small and medium-sized enterprises (SMEs) under the European Commission's COSME programme. This transaction benefits from the support of the European Fund for Strategic Investments (EFSI), the heart of the Investment Plan for Europe. Read more
More than a year after the European Fund for Strategic Investments (EFSI) was set up, Bpifrance applauds the initial results of the Investment Plan for Europe (IPE), as regards the SME window in particular. Read more
The European Investment Fund (EIF), Artigiancredito Toscano (ACT) and five guaranteeing institutions ('confidis'), have signed an umbrella agreement in Italy under the European Commission's COSME programme. This transaction benefits from the support of the European Fund for Strategic Investments (EFSI), the heart of the Investment Plan for Europe.  Read more

Eventi selezionati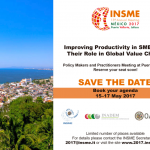 The 13th INSME Annual Meeting on "Improving Productivity in SMEs and Their Role in Global Value Chains" will take place from the 15th to the 17th of May 2017 in Puerto Vallarta, Mexico and co-organized with INADEM – the National Institute of the Entrepreneur of Mexico.
May 19 2017

Joint conference of the European Commission and European Central Bank on European Financial Integration
Once a year, the European Commission and the European Central Bank organise a joint conference on financial integration in Europe. The 2017 conference will be held in Brussels on 19 May and will focus on the latest developments of the financial sector, as well as Banking Union and the Capital Markets Union as catalysts for further financial integration in Europe.
2/3 November 2017
Global SME Finance Forum in Berlin
The two-day event comprising of senior executives from commercial banks, development finance institutions, fintech companies, as well as regulators will focus on balancing SME growth and security.
22-24 November 2017
SME Assembly Estonia
The 2017 SME Assembly will take place in Tallinn, as the flagship event of the European SME Week
---
Missione
L'AECM ha 41 membri operanti in 21 paesi dell'UE, in Bosnia-Herzegovina, Kirghizistan, Russia e Turchia. I suoi associati sono società di garanzia mutualistica del settore privato e istituzioni pubbliche, che sono sia fondi di garanzia che banche di sviluppo con una divisione dedicata.Hanno in comune l'obiettivo di fornire garanzie per prestiti alle PMI con una solida situazione economica ma non in grado di fornire alle banche garanzie sufficienti ad ottenere il credito.Nel 2013, le organizzazioni associate all'AECM avevano un volume totale di garanzie in portafoglio di più di € 76 miliardi e hanno concesso nuove garanzie per un totale di più di 25 miliardi di Euro.

I nostri associati