The advantages of being a member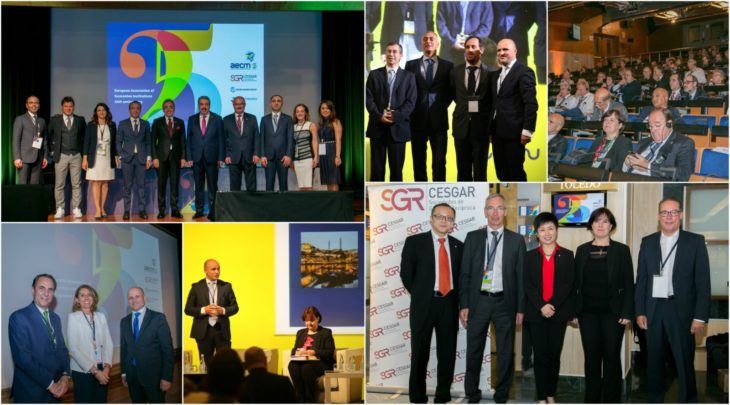 AECM members have in common the mission of providing loan guarantees for SME's who have an economically sound project but cannot provide sufficient bankable collateral.
At present, AECM has 42 member organizations operating in 25 countries.  They benefit from the activities  that AECM carries out for them in various ways:
Members continuously stay informed about European policy concerning guarantee schemes
AECM represents their Members at European level and closely collaborates with national and European institutions
Joint initiatives with other associations and networks multiply member interests
Representatives of European institutions and other stakeholders can be approached directly
Members are nominated to speak at events of the European institutions and at AECM events
Training opportunities of the staff of AECM members on specific topics -AECM organises operational training sessions (OTS) that take place twice a year and cover topics of interest in depth
Member statistics and studies are part of the activities AECM focuses on and are appreciated by the OECD, the EIF, the European Commission, etc.
AECM facilitates an exchange of experience and information at international level for its members
In addition, members are invited to speak at conferences outside of Europe to represent their work and interests
AECM provides an intensified exchange of information and experience through the arrangement of working groups
Members are supported to gain access to EU Financial Instruments
Overview of the AECM members sorted by accession date
What started out as a small association with 6 founding members, has now become the home of a variety of guarantee organizations from all around Europe. Here below is the history of the development of  AECM membership and a general overview of the association's numbers.
1992

·         SCM/MOB/CNCP

·         La Fédération Nationale des SOCAMA

·         VDB

·         5 Confidi associations / Assoconfidi

·         CESGAR

Belgium

France

Germany

Italy

Spain

1993

·         SIAGI

France

1995

·         aws

·         NÖBEG

·         SPGM

Austria

Austria

Portugal

1996

·         Garantiqa Hitelgarancia Zrt.

·         IAPMEI

·         MVA

Hungary

Portugal

Hungary

1997

·         AVHGA

Hungary

2000

·         TESKOMB

·         KGF

Turkey

Turkey

2001

·         Garfondas

·         CMZRB

Lithuania

Czech Republic

2002

·         FGCR

·         FRGC

·         KredEx

Romania

Romania

Estonia

2003

·         INVEGA

·         SOWALFIN

Lithuania

Belgium

2004

·         FNGCIMM

·         SOFARIS / Bpifrance

·         ISMEA

Romania

France

Italy

2006

·         TEMPME / ETEAN

·         RRA-GIZ

Greece

Slovenia

2007

·         SEF

·         LGA / ALTUM

·         PMV

Slovenia

Latvia

Belgium

2009

·         BGK

·         NGF

Poland

Bulgaria

2010

·         The Netherlands Enterprise Agency

·         Romanian Counter-Guarantee Fund

The Netherlands

Romania

2011

·         MCAC

Luxemburg

2012

·         FSECA

Russia

2013

·         HAMAG-BICRO

Croatia

2014

·         Guarantee Fund of the Republic of Srpska

·         The Fonds Bruxellois de Garantie

Bosnia and Herzegovina

Belgium

2015

·         Guarantee Fund of the Autonomous Province of Vojvodina

·         Slovenian Regional Development Fund

·         BBB

Serbia

Slovenia

United kingdom

2017

·         SBCI

Ireland