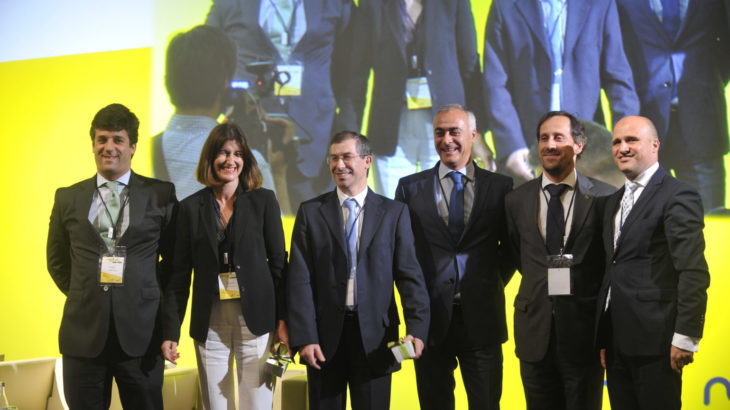 The AECM Annual Event 2016 ended on the 25th of June with a tour of the city of Porto and its incredible heritage: a wonderful closure for a special and dense occasion which will be remembered by participants, speakers and organizers alike.
In the beautiful frame of Porto, an exciting and charming Portuguese town which the participants of the event had more than one occasion to discover, AECM held its annual assembly, seminar and in addition the Global Summit of Guarantee Organizations, a meeting meant to create a network of guarantee organizations worldwide. The meetings were perfectly hosted by our Portuguese members SPGM, Norgarante, Lisgarante, Agrogarante, Garval and IAPMEI.
The participation was wide: almost 300 participants from over 30 countries arrived in the city for the event, deep into the busiest week of the year. The 24 of June is the feast of the patron saint of Porto, Saint John, and half a million people crowded the streets on the night of the 23rd June until the morning.
This year's seminar topic "The transfer of family business" was dealt with from a business, financial and international perspective. Family businesses are one of the oldest forms of commercial organizations and continue to be among the most common forms of business today, accounting for two-thirds of all business worldwide, generating more than 70% of global GDP annually. 85% of all European companies are family businesses providing 60% of jobs in the private sector, high-level speakers from european and international institutions discussed the most challenging moment for each familiy business: the transfer. 70% will not survive into the 2nd generation, 90% will not make it to the 3rd generation and only 3% make it further. The discussions ranged from policy actions of the European Union in this regard to the way how guarantee institutions support the transfer of family businesses.
Next to the annual seminar the statutory meetings of AECM took place,  including a public session of the General Assembly in the course of which high-level speakers from the European Commission, the EIB, the EIF and the EBRD, moderated by Miguel Cruz, president of the Portuguese IAPMEI, presented and discussed the latest developments regarding the EU financial instruments.
Furthermore a strategy workshop, titled ""Increasing the added value of AECM membership" was successfully organized for AECM's members who took part and dicussed the ways of making their membership even more valuable.
We are delighted to call our annual event 2016 a real success and are already looking forward to the next one in 2017, which will take place in Madrid.
A big obrigado to all of our participants and especially our Portuguese colleagues at SPGM, Norgarante, Lisgarante, Garval, Agrogarante and IAPMEI for the organisation of those wonderful days!
Find all the photos and the presentations from the event in the event website!
Photo credits JP Coutinho