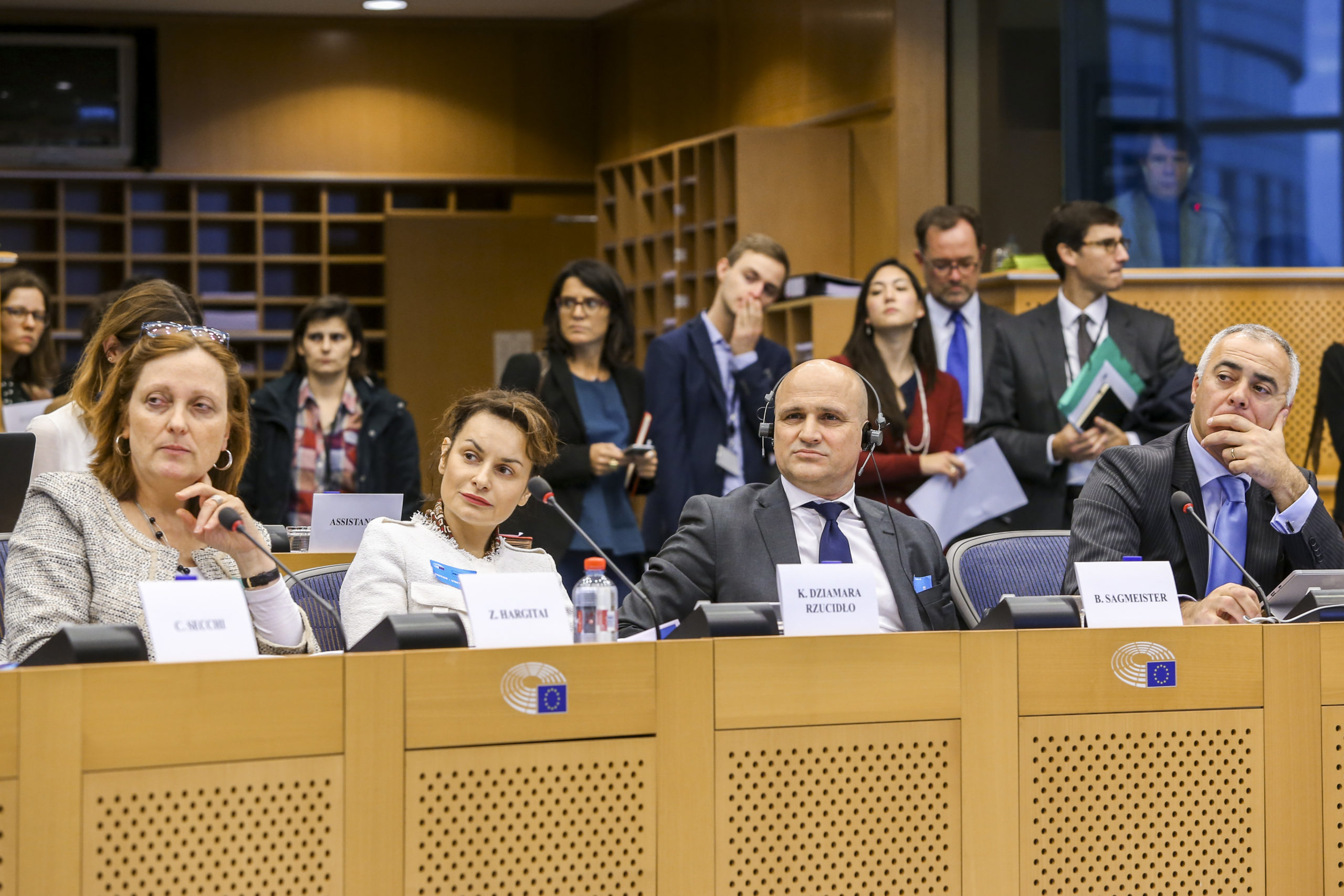 On 08 February 2017 the European Parliament organised a workshop on "The Financing of the European Fund for Strategic Investments (EFSI)". Among the five invited experts were i.a. Bernhard Sagmeister, Chairman of AECM, and José Fernando Figueiredo, who is Special Honorary Chairman of AECM and who spoke in his capacity as Executive President of the Instituição Financeira de Desenvolvimento (IFD).
All experts were asked to feed in their experiences gained with EFSI 1.0 in the currently ongoing legislative procedure for the adoption of EFSI 2.0.
Accordingly, Bernhard Sagmeister strongly focussed on the SME window of EFSI, underlining the important role that AECM's members are playing in implementing it. Out of the 400.000 companies who receive support under the SME window of EFSI 1.0, 25% are promoted via 16 of AECM's 41 members. This is also achieved due to the long-lasting and excellent cooperation of AECM's members with the European Institutions who are designing the EU financial instruments and the European Investment Fund (EIF) who is managing the guarantee instruments under EFSI.
Given that the European Parliament shares budgetary powers with the Council in voting on the annual budget, rendering it enforceable through the President of Parliament's signature, and overseeing its implementation, Bernhard Sagmeister addressed the strong request to ensure sufficient funding for the guarantee instruments till the end of the current programme period on 31 December 2020 and for the transitory period in 2021.
Referring to a study on the importance of financial intermediaries in SME financing and assessment of different economic effects especially of EU financial instruments in light of direct guarantee vs. counter-guarantee contracts that KPMG Italy carried out for AECM, Bernhard Sagmeister explained the advantages of counter-guarantees in comparision to direct guarantees. He underlined that consequently, counter-guarantees are having a significantly higher macroeconomic impact on innovation, growth and employment than direct guarantees. Accordingly, KPMG recommends amongst others to determine the conditions for counter-guarantees in such a way that they are more favourable for the final beneficiaries, the SMEs.
Further requests raised by Bernhard Sagmeister included the abolition of the 150,000 EUR threshold in COSME, the equal treatment under state aid provisions of guarantee institutions no matter if they are private, public or mixed as well as ensuring to strike the right balance as to reporting requirements between transparency requirements and the thereby created administrative burden. To learn more about AECM's position in this regard, you can download the position paper elaborated jointly with UEAPME and presented on January 26 in Brussels.
Photo credits © European Union 2017