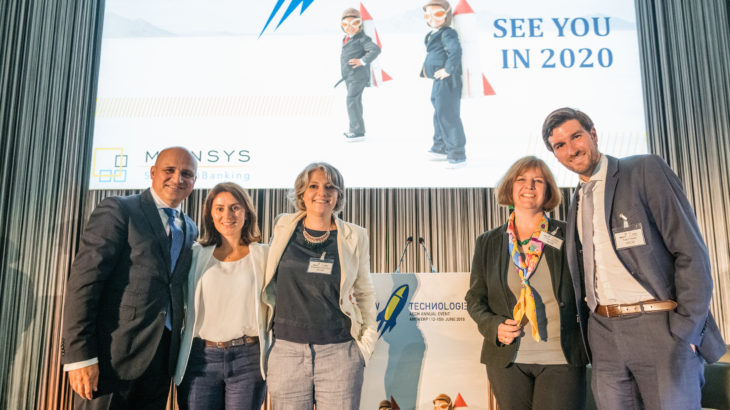 Letter from our Secretary General Katrin Sturm to the members of the General Assembly, the speakers of this year's annual event, our special guests from Belgium and our hosts
Dear all,
Another annual event is over and once again by means of this continued amazing team spirit it went perfectly well. Somehow we started already on Tuesday in Brussels with the full-day workshop of the European Commission on the COSME Loan Guarantee Facility where 13 members were present and raised their voices which is so important for our work. It was a marvelous opportunity provided by DG GROW and well taken up by you, many thanks! Then, on Wednesday in Antwerp, the meeting of the Global Network of Guarantee Institutions (GNGI) and the one of the AECM REGAR Task Force on Additionality followed, both with lively discussions and a lot of exchange with a super pleasant welcoming cocktail in the evening. Thursday the statutory meetings were followed by the public session of our General Assembly and the day ended greatly with an atypical Gala Dinner in a special environment. Friday the full-day seminar with the leisure program for the accompanying persons and Saturday an excursion for all of us making us acquainted with some of the most renowned sites of Antwerp.
Thus, let me express sincerest thanks by starting with our hosts from PMV, i.e. with Peter, Hilde, Carine, Koen, Michel, Filip and all their supporting colleagues. It was simply impressive what you did for us and honestly, you set new standards thinking only of this wonderful event app which is so easy to use and informs instantly. A big thank you to all of you for the perfect organization, for organizing such a special and varied leisure program and of course for convincing outstanding speakers to join our event – bedankt!
Yes, our speakers, external and internal alike: without you, the entire event would not have been possible. We had once more excellent speakers and fantastic moderators who shared their profound and large expertise with us in such a clear, well animated and stimulating way that it was a pure delight to listen – a million thanks to all of you!
Of course the annual event or somehow series of events wouldn't make any sense without all the participants coming from all over the world. Let me warmly thank all of you for having attended and contributed as usual in such an animated way. Only thanks to your presence this informal exchange on the margins of the event which is so important is made possible. And talking about the amazing support from our members let me please highlight the enormous backing provided by AECM's Chairman Bernhard Sagmeister and his fantastic team from Vienna, just to mention Kurt, Christoph, Susanne, Matthias even though there are many more, and also the members of our Board of Directors & their Deputies and supporting colleagues as well as the special advisor to AECM's Board of Directors Jean-Louis who all spend so much time and effort for AECM on an entirely voluntary basis.
Having organized the event in Belgium, we were honored to have Bernard Jehin, André Douette and Marcel Roy with us and could convey the best wishes from Guido Verhaegen and Gerard Talloen, many, many thanks to all of you as well as to Pablo Pombo and José Fernando Figueiredo for your hopefully never ending support to AECM.
Let me please also take this opportunity to say thank you to my dear colleagues Eleonora, Felicia, Felix, Maryam and Larissa with whom it is a pure joy working. You demonstrated a commitment far, far beyond average and your efforts jointly with PMV's made this event tremendously well organized, meaning crowned with this marvelous success. Yet when one of you told me to have fallen asleep during the lunch break on Saturday, it also became evident that we really went up to our limits.
So, the reward was this huge amount of positive feedback received, the chance to have spent enjoyable days together and to meet so many of you in this relaxed atmosphere – a million thanks to all of you!
Since after an annual event is at the same time prior to an annual event, allow me please to take this occasion to kindly ask you to save the date for the next one: as announced at the end of our seminar, we will be hosted by our Croatian member HAMAG-BICRO – Marijana, many thanks to you and to your fabulous team for making this possible! – and the event will take place in Dubrovnik from 22 to 25 April 2020. The seminar topic will be "Guarantee schemes beyond 2020" covering different subtopics and we try our best to achieve once again a topical agenda.
Very best wishes to all of you, enjoy a lovely summer period and keep on supporting us!
Katrin and your entire AECM Team