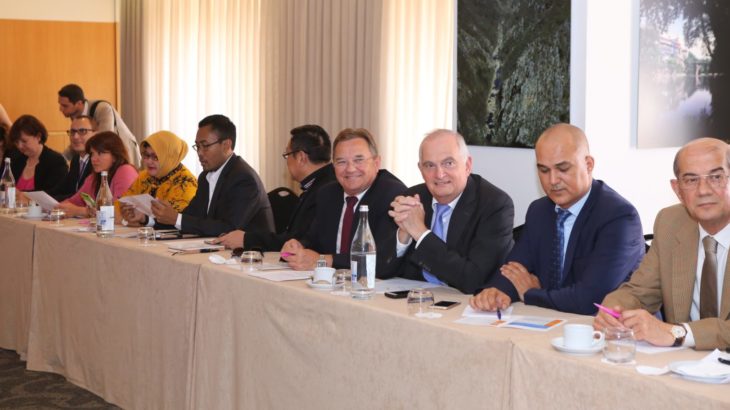 On Friday 24 June 2016 the Global Summit of SME Guarantee Organizations Leaders decided in Porto to set up a Global Network of Guarantee Institutions in order to improve credit access for SME worldwide.
Following the first Global Summit in 2007, the second meeting during the European Association of Guarantee Institution's (AECM) annual event aimed at promoting greater ties between the different guarantee institutions and organizations related to guarantee business on a global level.                                            
To consolidate their role as an instrument for economic development, a non-formal, cost-free and web-based Global Network to improve credit financing for Small and Medium Sized Businesses (SME) was launched. Representatives from all over the world such as Africa, Asia, MENA and institutions as OECD and SME Finance Forum took part in this decision.
The network serves as a platform for the exchange of information on the industry in order to facilitate working together and making the guarantee business even more efficient. There is no mandatory fee for interested organizations to join. The network will meet every year at one of its member's annual events such as ACSIC, AECM, REGAR or MENA and a Global Coordinator will be in charge of maintenance and representation. The coordinators of this new project will be José Fernando Figueiredo, chairman of SPGM in Portugal and Geun Woon Seoh, chairman and CEO of KODIT in South Korea. 
Globally, the SME face similar problems regarding the access to credit which can often be an obstacle to realizing a business project that is sound and makes commercial sense. This particularly happens to young entrepreneurs and start-up companies and can decrease economic development.
A greater cooperation is necessary not only to tighten the alliance between the relevant stakeholders SME, financiers and the government but to emphasize the important role of the SME as crucial driver of economic growth and employment. Their success also relies on the quality of work that guarantee institutions can provide. The importance of Guarantee Organizations is not only recognized by the European Commission but the World Bank, OECD and the G20. In general, guarantee schemes, funds or programmes can bring strong additionality to financial products available for SME in the financial markets and allow access to more market participants.
Photo Credits : JP Coutinho