Board
The Warsaw General Assembly of June 2018 elected the following Board of Directors for the period of 2018 – 2021.
---
Chairman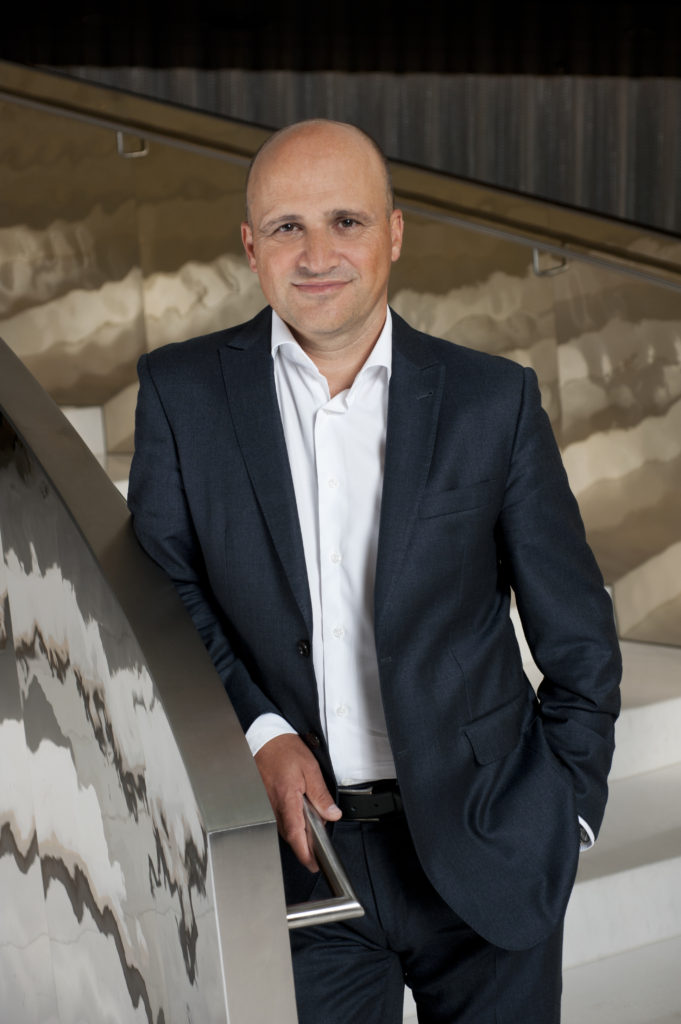 Bernhard Sagmeister
CEO | Austria Wirtschaftsservice (aws)
Competences: Institutional representation, Strategy, Press relations, International Cooperation
Since July 2009 Bernhard Sagmeister serves as Managing Director of Austria's Federal Promotional Bank "Austria Wirtschaftsservice GmbH" (aws) and the ERP-Funds (European Recovery Program). Furthermore, he chairs the "aws Venture Funds" and Austria's "National Foundation for Research, Technology and Development" (NFTE).
Bernhard Sagmeister draws on over 20 years of professional experience in the financial and banking industry. From 1994 to 2003 he held various management positions at Kommunalkredit, until he became CEO of Kommunalkredit Public Consulting (KPC) in 2003. Likewise, he has been Executive Director of Austria's "Environmental and Water Management Fund" for over 6 years. In addition, he gained 3 years of international experience during his posting as CEO at Kommunalkredit Public Consulting in Russia.
Being a graduate of Vienna's University of Natural Resources and Life Sciences (MSc. – Environmental Engineering and Water Management) Bernhard Sagmeister was assigned at different consulting firms, responsible for projects related to structural engineering and urban water management.
In addition to his current appointment at AWS Bernhard Sagmeister is affiliated to the supervisory board of the Austrian Bank for Tourism Development (ÖHT), member of "Austria´s External Economic Relations Advisory Board" (Federal Chamber of Commerce, Austria) and board member of Austria's "Water and Waste Management Association".
---
Members of the Board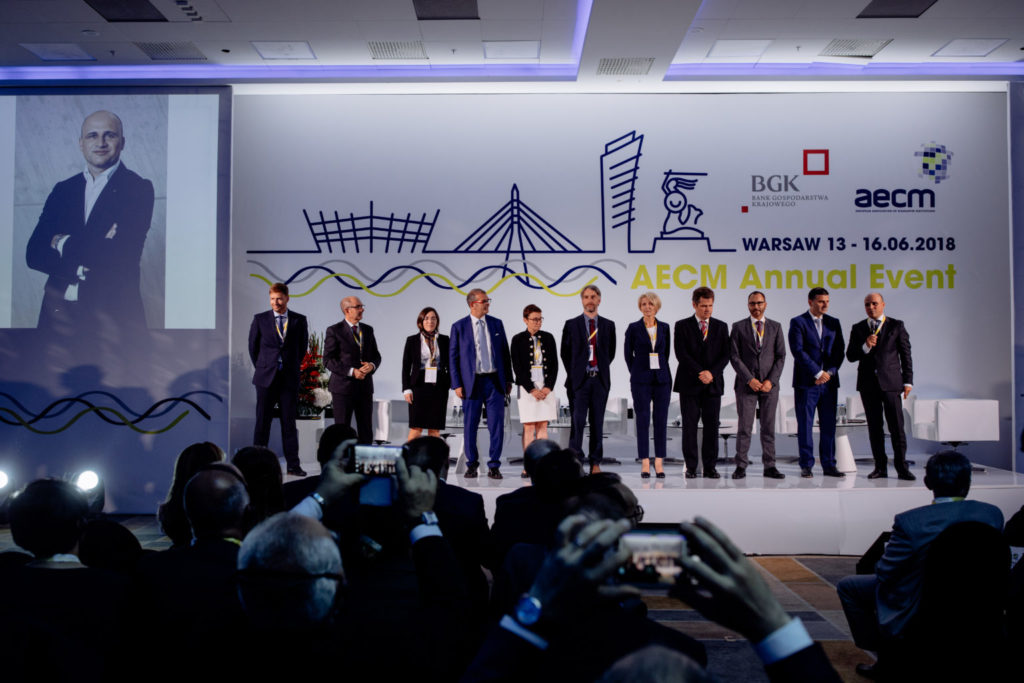 Karine Desroses| France| AECM Vice President, SIAGI
Guy Selbherr | Germany | AECM Vice President, Verband Deutscher Bürgschaftsbanken (VDB)
Enrico Gaia | Italy | AECM Vice President, Assoconfidi
Zenón Vázquez Irizar | Spain | AECM Vice President, CESGAR
Peter Sleeckx | Belgium | AECM Treasurer and Secretary of the Board, PMV
Marijana Oreb | Croatia | AECM Member of the Board, HAMAG-BICRO
Jiří Jirasek| Czech Republic| AECM Member of the Board, CMZRB
László Tóth | Hungary | AECM Member of the Board, Rural Credit Guarantee Foundation
Jēkabs Krieviņš| Latvia| AECM Member of the Board, ALTUM
Halina Wiśniewska | Poland | AECM Member of the Board, BGK
Beatriz Freitas | Portugal | AECM Member of the Board, SPGM
Dumitru Nancu | Romania | AECM Member of the Board, FNGCIMM
A. Kadir Akgül | Turkey | AECM Member of the Board, TESKOMB
Daniel Goupillat | France | AECM Qualified Person, SOCAMA

Founding President AECM: Pablo Pombo | Honorary President
Special Honorary President with the special mandate for international relations as well as for the recognition and defense of mutual guarantee systems | José Fernando Figueiredo
---
AECM's institutional history
President
Bernhard SAGMEISTER (aws, Austria)
Vice Presidents
Jean-Claude DEPOISIER / Gilbert REBEYROLE (SOCAMA, France)
Guy SELBHERR (VDB, Germany)
Adelio FERRARI / Enrico GAIA (Assoconfidi, Italy)
Pedro PISONERO PEREZ (SGR / CESGAR, Spain)
Board Members
Samuil SHIDEROV (NGF, Bulgaria)
Eva BUZA (Garantiqa, Hungary)
Audrius ZABOTKA (Invega, Lithuania)
Inga BALZEKAITE (Garfondas, Lithuania)
Halina WISNIEWSKA (BGK, Poland)
António GASPÁR (SPGM, Portugal)
Carmen RADU (FRC, Romania)
Silvia CIORNEI (FNGCIMM, Romania)
Abdul Kadir AKGÜL (Teskomb, Turkey)
Secretary and Treasurer
Bernard JEHIN (SOWALFIN, Belgium)
Secretariat
President
José Fernando FIGUEIREDO (SPGM, Portugal)
Vice Presidents
Bernard STALTER (SIAGI, France)
Guy SELBHERR (VDB, Germany)
Enrico GAIA (Assoconfidi, Italy)
Ramón GONZÁLEZ ROSALÍA (SGR / CESGAR, Spain)
Board Members
Bernhard SAGMEISTER (A.W.S., Austria)
Inabat TÖRÖK / Zoltan URBAN (Garantiqa, Hungary)
Audrius ZABOTKA (Invega, Lithuania)
Halina WISNIEWSKA (BGK, Poland)
Aurel SARAMET / Silvia CIORNEI (FNGCIMM, Romania)
Abdul Kadir AKGÜL (TESKOMB, Turkey)
Secretary and Treasurer
Bernard JEHIN (SOWALFIN, Belgium)
Secretariat
President
José Fernando FIGUEIREDO (SPGM, Portugal)
Vice Presidents
Francesco BELLOTTI (Assoconfidi, Italy)
Ramón GONZÁLEZ ROSALÍA (CESGAR, Spain)
Gilbert REBEYROLE (Fédération Nationale des SOCAMA, France)
Guy SELBHERR (VDB, Germany)
Board Members
Kurt LEUTGEB (aws, Austria)
Abdul Kadir AKGÜL (TESKOMB, Turkey)
Márton VADASZ (Garantiqa Zrt., Hungary)
Alexandros PAPARSENOS (ETEAN, Greece)
Aurel SARAMET (FNGCIMM, Romania)
Tomo GARANTINI (RRA-GIZ)
Secretary and Treasurer
Bernard JEHIN (SOWALFIN, Belgium)
Secretariat
President
José Fernando FIGUEIREDO (SPGM, Portugal)
Vice Presidents
Francesco BELLOTTI (Assoconfidi, Italy)
Ramón GONZÁLEZ ROSALÍA (CESGAR, Spain)
Alain AUDOUARD (SIAGI, France)
Guy SELBHERR (VDB, Germany)
Board Members
Kurt LEUTGEB (aws, Austria)
Aurel SARAMET (FNGCIMM, Romania)
Abdul Kadir AKGÜL (TESKOMB, Turkey)
Anikó ULRICH (AVHGA, Hungary)
Secretary and Treasurer
Secretariat
President
José Fernando FIGUEIREDO (SPGM, Portugal)
Vice Presidents
Arrigo GHIZZONI (ASSOCONFIDI, Italy)
Ramón GONZÁLEZ ROSALÍA (CESGAR, Spain)
Gilbert REBEYROLE (Fédération Nationale des SOCAMA, France)
Guy SELBHERR (VDB, Germany)
Board Members
Kurt LEUTGEB (aws, Austria)
Alexandros PAPARSENOS (TEMPME, Greece)
Aurel SARAMET (FNGCIMM, Romania)
Abdul Kadir AKGÜL (TESKOMB, Turkey)
Anikó ULRICH (AVGHA, Hungary)
Secretary and Treasurer
Secretariat
President
Hans-Herbert STROMBECK (VDB, Germany)
Vice Presidents
Ramón GONZALEZ-ROSALIA (Spain; banking supervision)
Gilbert REBEYROLE (France; relations with EU institutions)
Arrigo GHIZZONI (Italy; SMEs and their representative organisations) and
Miguel SOUSA BRANCA (Portugal; coordination EU subsidy programme)
Board Members
Helmut DORN followed by
Kurt LEUTGEB (Austria)
Abdul Kadir AKGÜL (Turkey)
Secretary and Treasurer
Secretariat
President
Vice Presidents
Hans-Herbert STROMBECK (Germany; Relations with Financial Institutions)
Gilbert REBEYROLE (France; Relations with EU Authorities)
Ramón GONZALEZ ROSALIA (Spain, SMEs and their representative organizations)
Board Members
Helmut DORN (Austria)
Abdul Kadir AKGÜL (Turkey)
Miguel SOUSA BRANCA (Portugal)
Secretary and Treasurer
Secretariat
President
Guido VERHAEGEN (Belgium)
Vice Presidents
Hans-Herbert STROMBECK (Germany)
Italo CALEGARI (Italy)
Eloy BECEDAS (Spain)
Board Members
Helmut DORN (Austria)
David Bennet (UK, partim)
Miguel SOUSA BRANCA (Portugal, partim)
Treasurer
José Fernando FIGUEIREDO (Portugal, partim)
Secretariat
President
Board Members
Klaus KÖBERLE (Germany)
Helmut DORN (Austria)
Guido VERHAEGEN (Belgium)
Angel MARTIN CABIEDES (Spain)
Giovanni CANEVELLO (Italy)
José FURTADO (Portugal)
David BENNET (UK, partim)
Secretariat
President
Board Members
Gilbert CAIRE (France)
Friedrich SCHÜTT (Germany)
Guido VERHAEGEN (Belgium)
Massimo VIOLATTI (Italy)
Secretariat