Operational Training Sessions (OTS)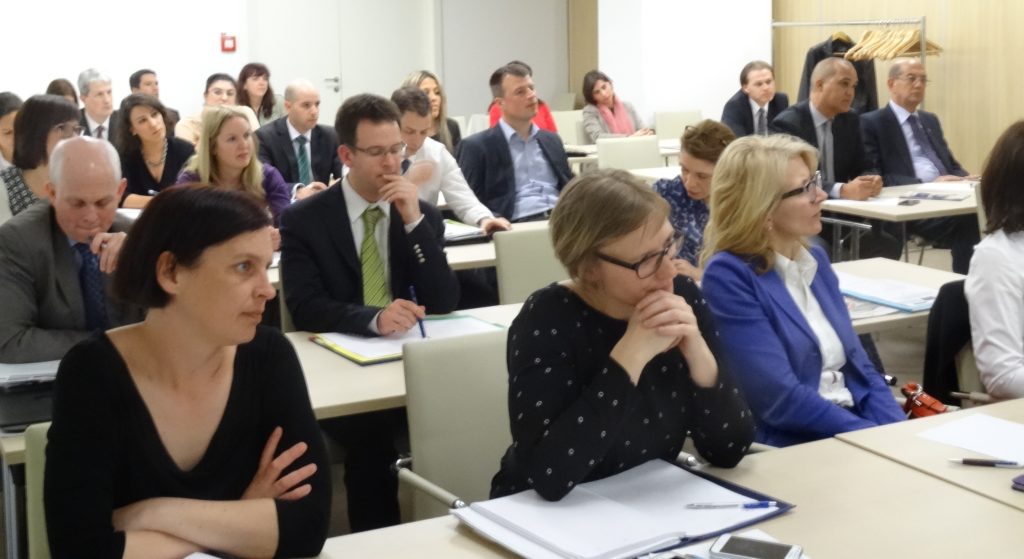 AECM organizes operational training sessions twice a year: these seminars are intended to facilitate the exchange among the middle management on specific topics.
In the course of these meetings a particular topic is dealt with in depth and the limited number of participants (between 25 to 50) allows for an informal and lively exchange, supplemented by the presence of external speakers who discuss the topics in an open and informal way, sometimes under the Chatham House Rule.
Our next OTS will take place on the 15 November 2018 in Brussels, Belgium, hosted by AECM on the issue "State Aid".
Do you want to take part? Send us an email at info@aecm.eu
Past Operational Training Sessions
03 – 04 May 2018 – Sofia (Bulgaria)
"The pricing of guarantees"
in collaboration with our Bulgarian member National Guarantee Fund
05 – 06 October 2017 – Athens (Greece)
"Individual vs Portfolio Guarantees"
in collaboration with our Greek member ETEAN
13-14 February 2017 – Berlin (Germany)
"The effect of digitization on guarantee procedures"
in collaboration with our German member VDB
15-16 September 2016 – Warsaw (Poland)
"Communication between Guarantee Institutions and Banks"
in collaboration with our Polish member BGK
9-10 May 2016 – Vilnius (Lithuania)
"Guarantee products and risk assessments. Evaluating risk for various types of guarantees"
in collaboration with our Lithuanian members INVEGA and Garfondas
15 -16 October 2015 – Zagreb (Croatia)
"Innovations in Credit Guarantee Schemes: A Way to Success"
in collaboration with our Croatian member Hamag Bicro
17-18 April 2015 – Maribor (Slovenia)
"Policies and Procedures for Collaterals"
in collaboration with our Slovenian member Slovene Enterprise Fund
20-21 November 2014 – Porto (Portugal)
"The analysis and evaluation of guarantees"
3-4 July 2014 – Brussels (Belgium)
"The EU Financial Instruments"
18-19 November 2013 – Vienna (Austria)
"State Aid Modernization – How AECM-Member-Institutions are affected"
5-6 May 2011 – Madrid (Spain)
"Risk assessment and rating"
For more information
contact us
.