Become a member
---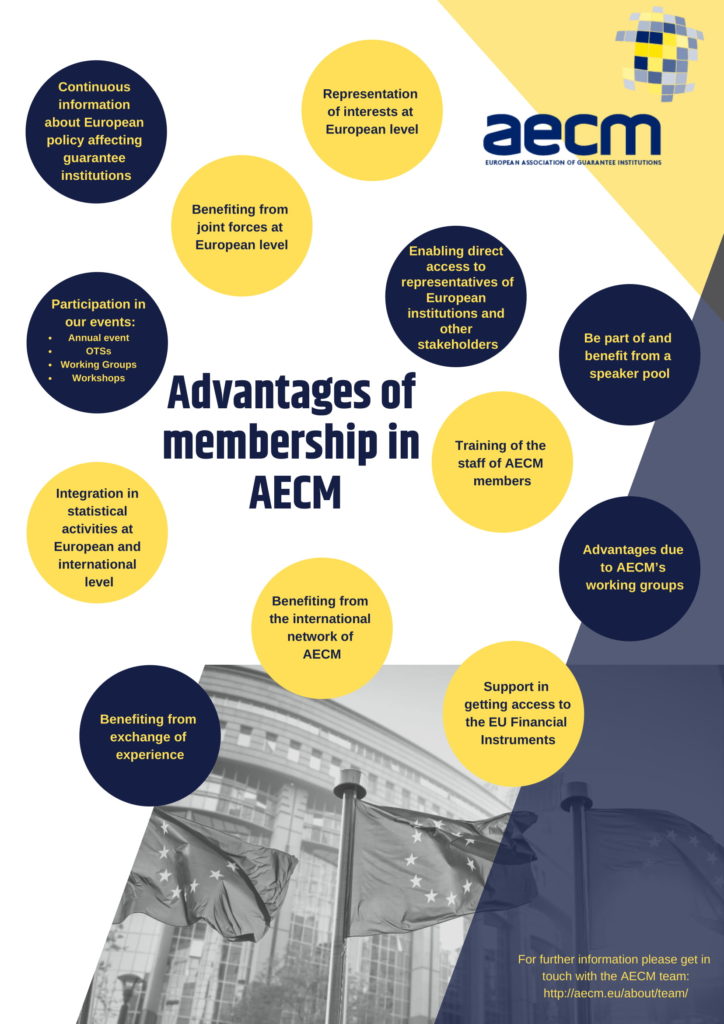 The advantages of being a member
AECM members have in common the mission of providing loan guarantees for SME's who have an economically sound project but cannot provide sufficient bankable collateral.
They benefit from the activities that AECM carries out for them in various ways:
Members continuously stay informed about European policy concerning guarantee schemes
AECM represents their Members at European level and closely collaborates with national and European institutions
Joint initiatives with other associations and networks multiply member interests
Representatives of European institutions and other stakeholders can be approached directly
Members are nominated to speak at events of the European institutions, AECM events and other international sector events
Training opportunities of the staff of AECM members on specific topics -AECM organises operational training sessions (OTS) that take place twice a year and cover topics of interest in depth
Member statistics and studies are part of the activities AECM focuses on and are appreciated by the OECD, the EIF, the European Commission, etc.
AECM provides an intensified exchange of information and experience through the arrangement of working groups, training sessions, workshops and seminars
Members are supported to gain access to EU Financial Instruments
---
Who can apply for membership
AECM is primarily composed of full members (cf. article 4 of AECM's statutes) and is interested in potential new full members whose core activity consists in providing SMEs in Europe with guarantees.
To join AECM there is a requirement that the applying institution is headquartered either in a Member State of the European Union (EU) or in another country provided that such country belongs to the target countries of the European Union as to associations, strategic partnerships, European neighbourhood policy and alike. In addition, such country must be located at least partially within the geographic boundaries of Europe.
For institutions applying for membership whose core activity does not consist in providing SMEs in Europe with guarantees and / or which are located in other countries, a partnership agreement may be envisaged.
The primary objective of a partnership with AECM consists in the exchange of best practices and in learning from each other.
In accordance with AECM's statutes (cf. article 8) the General Assembly exercises in its own right, without possibility of delegation, the power to decide upon the admission of new members upon the proposal of the Board of Directors.
---
Want to apply for membership?
Contact the Secretary General Katrin Sturm at: katrin.sturm@aecm.eu