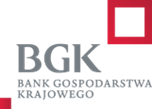 BGK
Bank Gospodarstwa Krajowego (BGK) is a Polish development bank whose mission is to support the sustainable social and economic development of Poland.
BGK is a financial partner actively supporting the entrepreneurship and making effective use of development programmes. It is the initiator of and the participant in cooperation between business, public sector, and financial institutions.
BGK responds to major development challenges in key areas of economy, it cooperates with the market and stabilises it, and also adjusts its activities to emerging needs, trends and market challenges through BGK strategy pillars and programmes.
It supports the development of Polish industry and its competitiveness, finance the largest infrastructural investment projects, provide Poles with greater access to the housing market and support the activity of Polish companies, both domestically and internationally.
Its activity is based on doing business in a responsible, ethical and sustainable manner. Therefore, BGK undertakes a wide range of initiatives aimed at promoting entrepreneurship, innovation, ecology, as well as fair treatment of employees, partners and customers.
BGK is present in every region of Poland as well as abroad with its representative offices in Brussels, London, Frankfurt am Main and Amsterdam. It supports export and foreign expansion of Polish companies. BGK is the originator, co-founder and main shareholder of the Three Seas Fund which invests in transport, energy and digital infrastructure in the countries of the Three Seas region.
Since its establishment in 1924, employees of BGK have participated in numerous events of great significance for the economic development of Poland. We financed some strategic investment projects, such as construction of the port and shipyard in Gdynia and creation of the Central Industrial District.
Since the beginning of the COVID-19 pandemic, BGK has changed the existing guarantee offer, adapting the parameters to the needs of Polish entrepreneurs. In addition, it introduced new guarantees aimed at improving financial liquidity for business clients (offered by lending banks and factors). As a consequence of another crisis (war in Ukraine), BGK continues to offering special conditions of its guarantees based on The Temporary Crisis Framework's extension.
As of end 2021, BGK had an outstanding guarantee volume of more than bEUR 9.1 and supported almost 155,000 SMEs.
AECM accession year
2009
Legal form
Polish Development Bank
Ownership
Public
Geographical and sectoral coverage
National
All sectors
Products
Loan guarantees, leasing guarantees, guarantees on factoring, export loan guarantees, performance guarantees, student loan guarantees, subsidised loans, (quasi-)equity products, advisory services
Counter-guarantee
National and EU counter-guarantee
Warsaw/Brussels, 1st February 2022