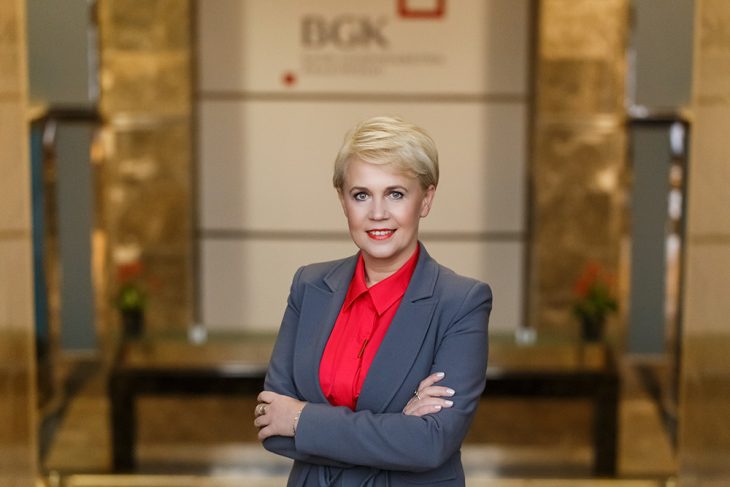 Bank Gospodarstwa Krajowego (BGK) is the State Development Bank of Poland with total assets exceeding 12 billion euro. It was established in 1924 and reactivated during transformation process in 1989 as a bank servicing the public finance sector. Today, the government tasks the Bank with the operation of a number of special purpose funds and programmes (including the National Road Fund, National Housing Fund, Thermomodernisation and Renovation Fund and the Railway Fund).
Currently, BGK actively participates in the implementation of the state's economic objectives. During the economic slowdown, it provides funding for infrastructure investments and thus supports growth of this sector of the economy. It is an important link in the provision of funding and support for areas that are important for the society, such as housing infrastructure, energy efficiency and public utilities. It supports Polish exporters by taking on part of the risk related to trading activities of Polish companies. In collaboration with other financial institutions, BGK improves access to funding for businesses, which translates into lower unemployment and stronger GDP growth.
BGK manages several special purpose funds and a number of governmental programmes. Its mission is to support social and economic growth of Poland and the public finance sector in the performance of its tasks.
Year of creation


individual entities or association

1924
Do you (your members) benefit of a public counter-guarantee that allows deponderation (capital relief)?
No
Do your guarantees provide deponderation (capital relief) for member banks subject to capital requirements (Basel agreement)?
Yes
Do you (your members) dispose of an internal rating/scoring system?
Yes
Do you (your members) use..?


De minimis or GBER or Regional guidelines or Notification

De minimis, Regional guidelines and Notification
Is the activity subject to state aid regulation?
Yes
Other SME support instruments offered by your organisation/your members


Subsidized loans or Mezzanine financing or Venture capital or Coaching or Mediation services

Subsidized loans, Mezzanine financing, Venture capital
Types of guarantee products provided by your organisation/your members
Loan default guarantees, Working capital loan guarantees, Project guarantees, Export guarantees, Student loan guarantees
Are you/your members financial intermediary for EU-programmes?


CIP/COSME or Structural funds or Progress or RSI/RSFF Horizon 2020

CIP/COSME
Do you benefit from a counter-guarantee at local, regional or national level?


Local level or Regional level or National level

EIF
Type of scheme


guarantee or counter-guarantee

Guarantee, Countergarantee
Product typology


guarantee or counter-guarantee or co-guarantee

Guarantee, counter guarantee
Profit / Non-profit oriented


dividends to public shareholders are not considered as profit orientation

Non-profit oriented
Supervision statute


i.e. mono-product banking licenses, financial intermediary statute, non-supervised. For associations, please state statute of members

Based on polish banking law, supervised by Polish Financial Supervision Authority
Size of businesses supported


i.e. large companies, SMEs, micro-enterprises, independent/self-employed

Large companies, SMEs
Sectorial focus


i.e. agriculture, industry, crafts, retail, liberal professions, cooperatives, etc.

All sectors
Geographic coverage


i.e. local, regional, national

National
Structure / Network


i.e. central scheme with regional offices, central scheme only, association network

Central scheme with regional offices
Legal form


of single guarantee entity or association: i.e. fund, development bank, development agency, cooperative or mutual societies, bank, foundation, association, limited company, etc.

State Development Bank
Shareholder structure


Private / Public (in %)

100% public
Ownership


i.e. fully mutual, funded by SMEs, banking associations, fully public, fully private, private-public, mixed models

Fully public
Type of organization


National Promotional Bank (NPB), National Promotional Institution (NPI), Private, Mutual, Mixed

NPB
Downloads
ANNUAL REPORT


text/html; charset=UTF-8 |

BROCHURE


text/html; charset=UTF-8 |