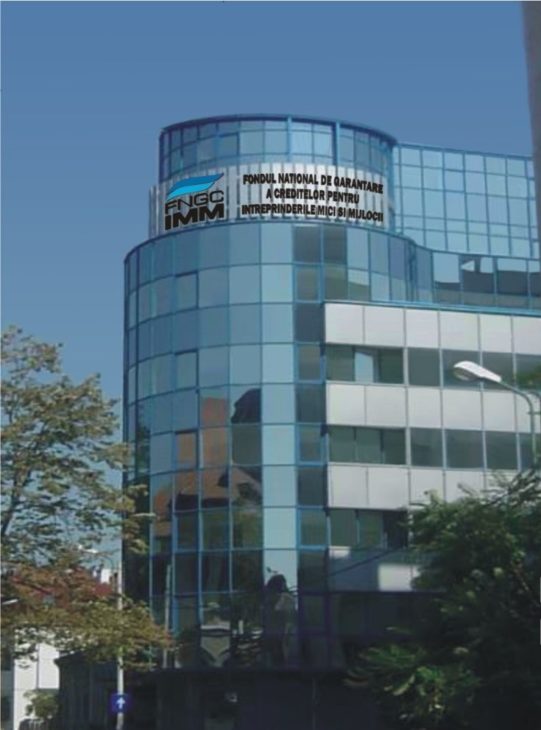 Fondul National de Garantare a Creditelor pentru Intreprinderile Mici si Mijlocii SA-IFN (FNGCIMM – National Credit Guarantee Fund for SMEs) is the only one fully public Romanian Guarantee Fund, acting as a (non-banking) financial institution, under the supervision of the Central Bank (Romanian National Bank), incorporated as state-owned company.
Since 2002, FNGCIMM is granting, from its own funds or from public funds under management, guarantees to the SMEs, including start-ups, confronting with lack of collateral, to extend their access to loans for current business/implementing development projects, including those partially financed from European funds. Under specific governmental programs, FNGCIMM provides also guarantees to other categories of beneficiaries, i.e. local administration, natural persons, NGOs.
FNGCIMM has a national coverage through its network consisting of representative offices, branches and affiliated Local Guarantee Funds, all of them providing information support and advice to local SMEs.
Year of creation


individual entities or association

2001
Type of organization


National Promotional Bank (NPB), National Promotional Institution (NPI), Private, Mutual, Mixed

NPI
Type of scheme


guarantee or counter-guarantee

Guarantee
Product typology


guarantee or counter-guarantee or co-guarantee

Guarantee
Ownership


i.e. fully mutual, funded by SMEs, banking associations, fully public, fully private, private-public, mixed models

Fully Public
Shareholder structure


Private / Public (in %)

100% public
Legal form


of single guarantee entity or association: i.e. fund, development bank, development agency, cooperative or mutual societies, bank, foundation, association, limited company, etc.

(non-banking) financial institution, incorporated as company
Structure / Network


i.e. central scheme with regional offices, central scheme only, association network

Central scheme with regional offices
Geographic coverage


i.e. local, regional, national

National
Sectorial focus


i.e. agriculture, industry, crafts, retail, liberal professions, cooperatives, etc.

General (all sectors)
Size of businesses supported


i.e. large companies, SMEs, micro-enterprises, independent/self-employed

SMEs, Micro-enterprises, Independent/Self-employed
Supervision statute


i.e. mono-product banking licenses, financial intermediary statute, non-supervised. For associations, please state statute of members

Non-banking financial institution, registered and supervised by the National Bank of Romania (NBR)
Profit / Non-profit oriented


dividends to public shareholders are not considered as profit orientation

State-owned company with legal obligations to operate as a self-sustainable SME guarantee scheme and to pay at least half of the net profit as dividend to the sole public shareholder
Do you benefit from a counter-guarantee at local, regional or national level?


Local level or Regional level or National level

FNGCIMM benefits from a counter-guarantee at national level (from the Romanian Counter-guarantee Fund)
Are you/your members financial intermediary for EU-programmes?


CIP/COSME or Structural funds or Progress or RSI/RSFF Horizon 2020

FNGCIMM was the financial intermediary for the Operational Programme for Fisheries 2007-2013 (structural funds)
Types of guarantee products provided by your organisation/your members
Loan default guarantees, Guarantees for working capital needs, Guarantees for short term financing needs, Housing guarantees, Agri-guarantees, Guarantees for fishing industry, Guarantees for European projects, Guarantees for local governments finance needs in rural areas
Other SME support instruments offered by your organisation/your members


Subsidized loans or Mezzanine financing or Venture capital or Coaching or Mediation services

Advice for the SMEs looking for adequate finance (FNGCIMM guaranteed bank loans)
Is the activity subject to state aid regulation?
Yes
Do you (your members) use..?


De minimis or GBER or Regional guidelines or Notification

No
Do you (your members) dispose of an internal rating/scoring system?
Yes
Do your guarantees provide deponderation (capital relief) for member banks subject to capital requirements (Basel agreement)?
Yes
Do you (your members) benefit of a public counter-guarantee that allows deponderation (capital relief)?
Yes