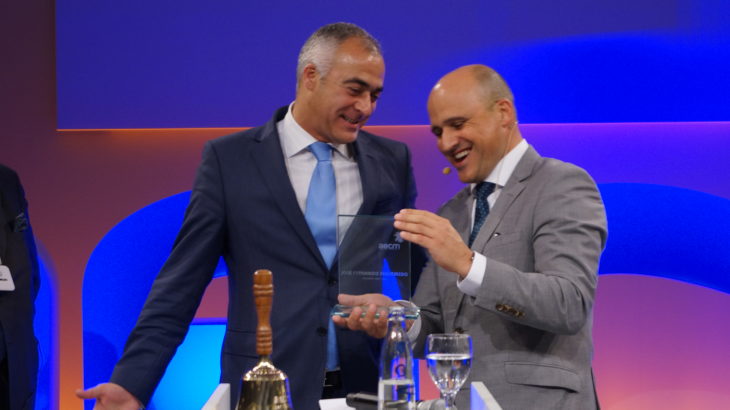 AECM announces 2015's Board of Directors and newly elected President
Berlin, 18 June 2015 – AECM, the leading European association of guarantee institutions has announced during the course of its annual event in Berlin the new board of directors and President. The board includes 9 incumbents and 3 newly ratified members from 12 different European countries: Bernhard Sagmeister (aws / Austria), Bernard Jehin (SOWALFIN / Belgium), Guy Selbherr (VDB / Germany), Éva Búza (Garantiqa Credit Guarantee Fund / Hungary), Audrius Zabotka (INVEGA / Lithuania), Halina Wiśniewska (Bank Gospodarstwa Krajowego BGK / Poland), Silvia Ciornei (FNGCIMM / Romania), Pedro Pisonero Pérez (CESGAR / Spain) and A. Kadir Akgül (TESKOMB / Turkey) were reelected by the General Assembly, whereas Samuil Pavlov Shiderov (National Guarantee Fund / Bulgaria), Jean-Claude Depoisier (SOCAMA / France) and Adelio Ferrari (Assoconfidi / Italy) were elected for the first time.
The new President of AECM is Bernhard Sagmeister,  who took over from José Fernando Figueiredo (SPGM / Portugal) who was AECM's President from 2007 till 2015. In order to acknowledge José Fernando Figueiredo's outstanding work and exceptional dedication to AECM during his four mandates as President of AECM, the Board of Directors awarded him the title "Special Honorary President with the special mandate for international relations as well as for the recognition and defense of mutual guarantee systems".
Since July 2009 Bernhard Sagmeister has been Managing Director of Austria's Federal Promotional Bank "Austria Wirtschaftsservice GmbH" (aws) and of the ERP-Funds (European Recovery Program). Furthermore, he chairs the "aws Venture Funds" and Austria's "National Foundation for Research, Technology and Development" (NFTE). Bernhard Sagmeister draws on over 20 years of professional experience in the financial and banking industry. From 1994 to 2003 Bernhard Sagmeister held various management positions at Kommunalkredit, until he became CEO of Kommunalkredit Public Consulting (KPC) in 2003. Likewise, he has been Executive Director of Austria's "Environmental and Water Management Fund" for over 6 years. In addition, he gained 3 years of international experience during his posting as CEO at Kommunalkredit Public Consulting in Russia. Being a graduate of Vienna's University of Natural Resources and Life Sciences (MSc. – Environmental Engineering and Water Management) Bernhard Sagmeister was assigned at different consulting firms, responsible for projects related to structural engineering and urban water management.
AECM now has 4 Vice-Presidents: Jean-Claude Depoisier and Adelio Ferrari have this function for the first time whereas Guy Selbherr has been Vice-President since 2007 and Pedro Pisonero Pérez has had this function since 2014. Furthermore Bernard Jehin continues to be Secretary of the Board and Treasurer, what he has been since 2011.
Press release AECM new President and Board
AWS – Press release new President AECM (German version)